COVID19 TERMS & CONDITIONS
COVID19 IMPORTANT INFORMATION
We are now able to accept all bookings arriving June 1st or later. Any bookings made for an arrival date before this time will be subject to the conditions as per the Current Public Health Order in place.  
In order to deal with the public health risk of COVID-19 and its possible consequences, the Public Health Order directs that Caravan Parks must not be open to members of the public, except as provided in the Order.
The categories of people we can remain open for are set out below;
Those who have no place of permanent residence or their primary place of residence is temporarily unavailable
Those who are working in the local area
Overnight travellers
Visitors to permanent residents or visitors to those currently staying in the park
All bookings and future arrivals from now until the 1st of June will be required to complete a statutory declaration before arrival.
To view and download this declaration please click here.
If you have an existing booking or are considering booking with us in the coming months, you have the confidence of knowing that we have adopted the BIG4 PARKS FLEXIBLE CANCELLATION POLICY.
This means that if you book directly with us or through BIG4.com.au, for a stay between now and the end of August, you are able to change your booking without fee, up to 72 hours prior to arrival. You will have the option of changing the date or choosing to take credit for a future booking. That credit is valid for 12 months. If your change is within a time frame that our standard policy would allow even more flexible terms, that would apply.
As per the ACCC, if travel is cancelled due to a Government restriction, then the guest will be eligible for a refund.
We are closely following all advice received from the Australian medical authorities regarding precautions that are needed to minimise risks concerned with COVID-19. If you are a past guest, you will know we already have a high standard of cleanliness. Our housekeeping team have introduced further steps to ensure the rooms and shared facilities in our park are cleaned and disinfected to the highest standard. All staff, including front office, have been trained in the recommended health and safety precautions to minimise any risks.
In accordance with the public health order, and to ensure guests abide by social distancing guidelines, some common areas within the park are closed. Our pool and games room remain closed during this time. Our Camp Kitchen, BBQ area, Laundries and Office are open but are restricted to maximum occupant limits, and all occupants must remain 1.5m apart. Hand hygiene stations are available in all these areas. 
Our amenities block within the powered site area is also open, however, we strongly recommend all guests use the facilities within their own van when possible.
As we are all aware, the situation and restrictions have been changing frequently. We will continue to update our current terms and conditions as per the latest Government directives. We look forward to the day we can return to normal operation and welcome all guests back in the park.
Our modern cabins are Family & Pet-friendly! From budget options to Executive Villas, we have your accommodation covered. Sleeping arrangements for 2 - 6 people, whether it's for an overnight stay or a holiday break!
Relax by the Pool or meet new friends at the undercover Camp Kitchen. Cook up a feast at the BBQ area in the pizza oven and eat dinner under the stars. All sites have access to our modern individual ensuite amenities block with key card access.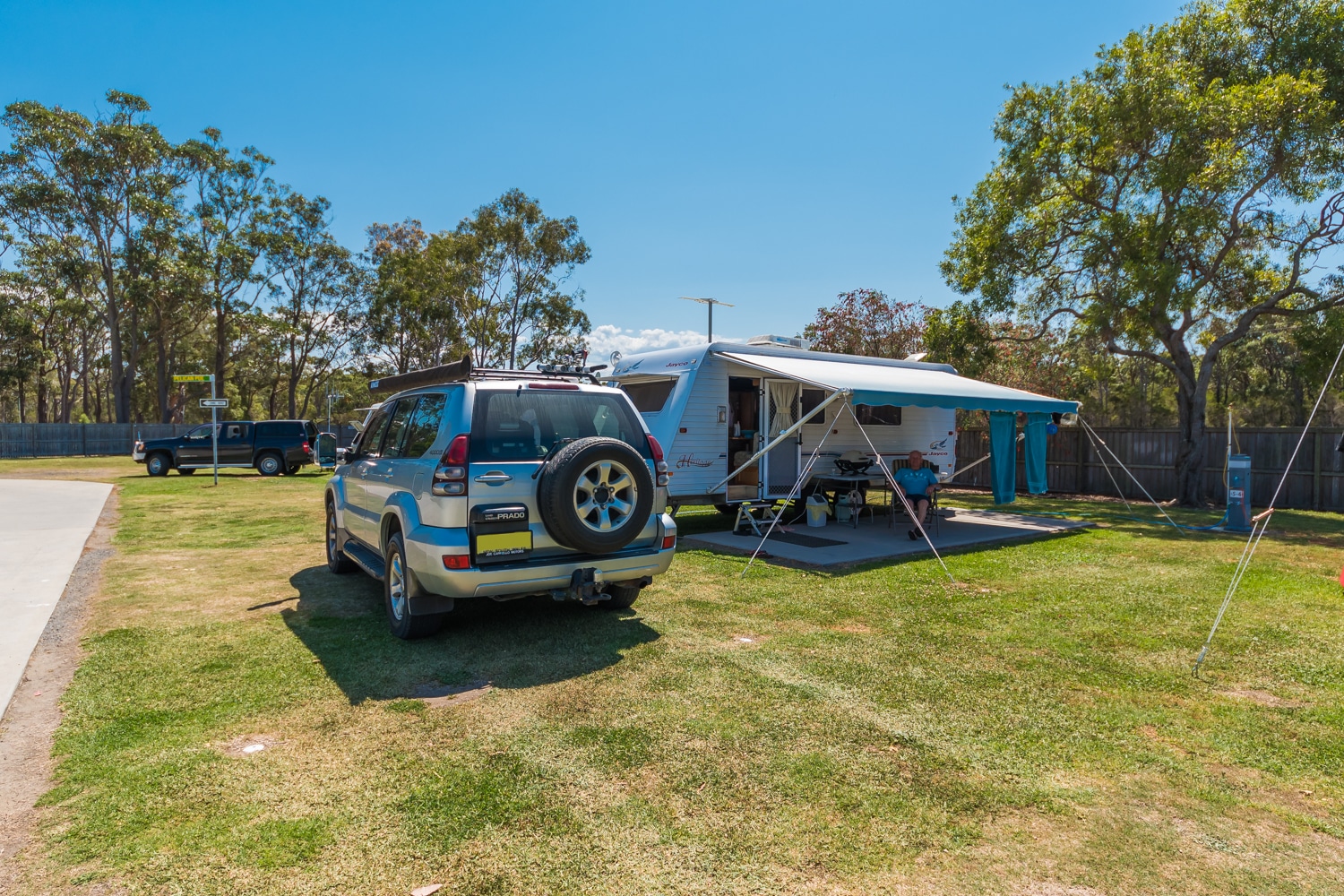 Set up your caravan, RV, camper or tent on one of our large grassy sites. Each site has a concrete slab, power head, fresh water tap and grey water disposal. Choose from powered, unpowered or ensuite* sites. Drive through sites also available.